Leonardo da Vinci primarily is remembered as a painter. However, he was also a renowned inventor, architect, musician, scientist, mathematician, engineer, geologist, cartographer and botanist. During his time, da Vinci was known as a Renaissance man. He could do it all.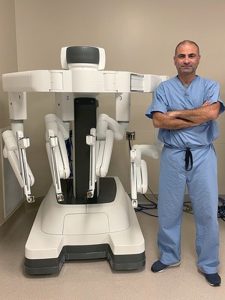 More than 500 years after da Vinci's life, the surgical equipment that bears his name can also do it all. The da Vinci XI Surgical System is the most advanced surgical robotic system in medicine. And we are excited to share that it has arrived at Bon Secours Southampton Medical Center to further enhance our acclaimed surgical services.
The da Vinci system does more than just help with surgery – it changes the entire experience for patient and doctor alike. The system is a sophisticated robotic platform designed to expand the surgeon's capabilities and offer a minimally invasive option for major surgery.
The da Vinci also provides surgeons with an alternative to traditional surgery by putting a surgeon's hands at the controls of a state-of-the-art robot. The system enables surgeons to perform even the most complex and delicate procedures through very small incisions with unmatched precision.
For patients, all of this means faster recovery times with less pain and a quicker return to everyday activities. It also means a reduction for the need in prescribing pain medication like opioids, which is helpful in our efforts to prevent opioid addiction.
"This is a significant investment by Bon Secours that was important for us to make because of the value it offers our patients," says Kim Marks, Bon Secours Southampton Medical Center President. "It was important for our mission to bring these patient benefits to southeastern Virginia."
Giahas Rana, MD, an OB/GYN, performed Southampton's first robotics surgical case at the end of 2020. Dr. Rana was joined in earlier this year by Yassar Youssef, MD, a general surgeon. Both physicians have completed extensive training programs in da Vinci robotic surgery.
With Southampton Medical Center joining our ministry last year, we are so proud of this addition of da Vinci and robot-assisted surgery. It demonstrates our commitment to extend quality, compassionate care into the rural communities of southern Virginia.
Learn more about the general surgery services we offer at Bon Secours.