This past year, the world experienced something unimaginable. The COVID-19 pandemic quickly changed our daily schedules, separated us from friends and family and closed businesses. One group of individuals who saw major lasting effects from this pandemic are residents and team members in long-term care facilities.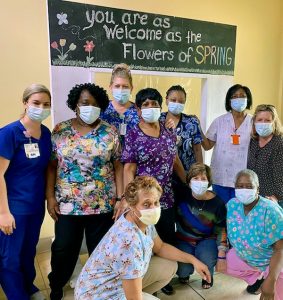 Bon Secours Southampton Memorial Hospital's East Pavilion was forced to close its doors to visitors, cancel activities and isolate residents to keep them safe. These residents, as well as our team members caring for them, took the brunt of this virus head on.
While the past year caused many challenges and heartaches, the residents and team members of East Pavilion showcased tremendous bravery, resiliency and patience.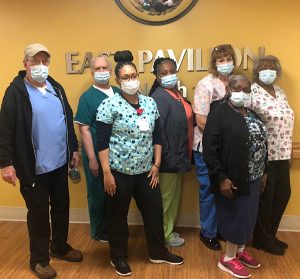 "The beginning of the pandemic was filled with the fear of the unknown. However, the essential workers of East Pavilion continued to selflessly care for residents when they needed it the most," shares Esther Francis, nursing administrator, Southampton Medical Center East Pavilion. "We would not be looking at the light at the end of the tunnel without the hard work, dedication and bravery put forth by all departments at East Pavilion."
The pandemic highlighted the importance of working as a team, not only at East Pavilion, but in life. Regardless of job title, our team members stepped in whenever and wherever needed in order to provide compassionate care to our residents.
This week is National Nursing Home Week! As such, we would like to thank administration, nursing, housekeeping, dietary, pharmacy, lab, activities, maintenance, physicians and our resident's families for their dedication, flexibility and support throughout this challenging time.
We faced far more than our share of challenges this past year, but we have come out successfully on the other side; together we are "EP Strong!"
Learn more about the health care services we offer at Bon Secours.