Over the past year, Emporia and Greensville County in Virginia has lost more than 65 of our friends, colleagues and family members to COVID-19. The community has experienced a significant sense of loss and change, as we've had to adapt our lives to care for and support one another.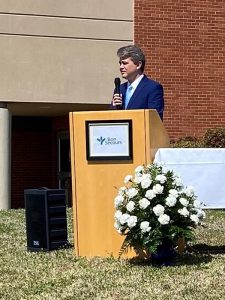 Gatherings like graduations, weddings, church functions and much more have been very missed. Yet, despite all these sacrifices, the community has pulled together to support and creatively meet the challenges of our time.
"Looking back just a year ago, we could have never imagined the incredible loss we would ultimately suffer as a nation, and as a community," says Kathe Ware, hospital administrator and vice president of nursing at Southern Virginia Medical Center. "None of us have been left untouched in one manner or another. We saw tremendous connection, strength, caring, resolve and dedication, as well as an incredible outpouring of support from our community."
On March 29, Bon Secours Southern Virginia Medical Center hosted a drive-in and virtual remembrance ceremony to honor the sacrifices, losses and changes our community has experienced throughout the COVID-19 pandemic. The community gathered virtually and via drive-in to mark this occasion and ask God to grant us the perseverance to see through the end of the pandemic.
Nancy Rose, executive director of the Emporia-Greensville Chamber of Commerce shared, "This season in our lives has been one of devastating loss. We will always cherish the memories of those we lost and pray for the healing of the survivors. The service was an incredibly nice and heartfelt tribute for our community. We appreciate everything which Bon Secours is doing for Emporia-Greensville."
Kathe adds that Southern Virginia Medical Center was privileged to be able to "provide an opportunity to stop, reflect and honor all of the ways we have been impacted."
Stay updated on what Bon Secours is doing related to COVID-19.