Feeling stressed? It happens to everyone from time to time. But finding ways to deal with the strain you're under is important.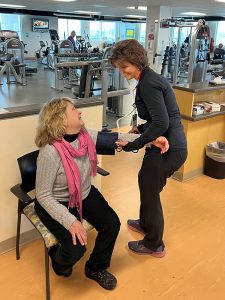 If you don't, it can become dangerous. Just ask Bailey Kendrick (pictured above, middle), whose stress led to her having a cardiac event in December.
"It was scary! You think of a heart attack happening when people are a lot older than me, but they told me it was all stress-induced. I just didn't really realize that stress can bring it on like that."
Bailey has only been living in Greenville, S.C. for a few years, after moving to the area for a new job. Unfortunately, she was the victim of company-wide layoffs and the new full-time position she started this past fall has been a lot to get used to.
"It's just been a struggle to uproot my life and come here, then all these things happen."
Bailey was at work when she realized something felt off, but a heart attack wasn't her first thought.
"I'm trained to teach CPR for the Red Cross, so I had an idea that might be what it was, but I wasn't sure if the event was a heart attack or anxiety," she explains. "I went home, got in bed and tried to go to sleep, but it didn't go away. That's when I knew it was time to get checked out."
By the time Bailey arrived at our emergency department, the cardiac event appeared to be resolving.
"When we got her into the cath lab, her arteries were normal. Her blood pressure was also low, which can often happen after a cardiac event," Christopher Smith, MD, a cardiologist at Bon Secours Upstate Cardiology Greenville, recalls.
Dr. Smith used a small pump device to help ease the workload on Bailey's heart until her blood pressure recovered. Her unexpected hospital stay was the result of takotsubo cardiomyopathy, a condition termed "broken heart syndrome."
"In general, heart attacks are caused by blocked arteries that cut off blood supply to the heart," Dr. Smith explains. "However, in this case, a person experiences bursts of stress hormones, like adrenaline, that prevent their hearts from contracting properly. Essentially, it's a stress-induced cardiac event, and it can strike even if you're otherwise healthy."
Lucky for Bailey, broken heart syndrome is treatable. Like most people who experience it, she was able to resume her daily activities after just a few short weeks.
And to ensure her heart stays in tip top shape, she's now taking part in our cardiac rehab program. She is also looking into stress management resources offered at her workplace.
"I think we all need to learn how to manage our stress better," Bailey says. "I also think if you ever believe you may be having a heart attack, just err on the side of caution and get it checked out."
Learn more about the heart and vascular services we provide at Bon Secours.