For Lynn Ryan, a registered and certified hospice and palliative nurse in our Richmond market, joining in a steps challenge with a team of her colleagues is helping her honor her late sister, Holly. Holly's cancer treatment had impacted her mobility. So, this particular activity honors Lynn's gratitude for the gift of mobility while also reminding her of the importance of having a team.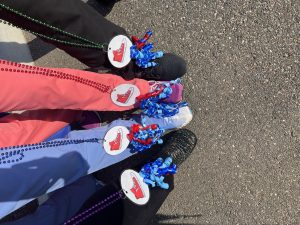 "March is the anniversary of my sister, Holly's, birthday," Lynn shares. "She died three years ago after losing a battle to the side effects of radiation treatment for brain cancer. She lost her sense of balance and suffered from neuropathy. She was unable to walk more than a few steps, but she was a very positive person! Holly would remind me to always be grateful, because not being able to walk was a handicap she never imagined."
When some of Lynn's "work pals" called her up and asked her to join their Ministry Miles team – a steps challenge that is a part of our ministry's well-being program for all team members – she agreed without hesitation.
"This was for my sister Holly, who would have LOVED my teammates," she adds.
Lynn's teammates included Lynn Simpkins, RN, MSN, FNP-BC, GNP-BC, ACHPN, a nurse practitioner with Bon Secours Hospice; Kay Hall, RN, MSN, a clinical supervisor of education for Bon Secours Hospice; and Amity Leland, MS, BSN, RN CHPN, a hospital liaison for Bon Secours Hospice.
Together they stayed focused and improved their personal fitness. In total as a team they tracked nearly 2 million steps in March for the win. Their steps led all other teams and helped make the 2023 Ministry Miles steps challenge a success with more than 1,500 associates participating to log more than 1.1 billion total steps in March.
"I am so proud of our team," Kay shares. "We really built on each other's energy to stay focused and keep going. At one point we fell to third place, and our team rebounded by all of us doing everything we could do to get our points up."
It's the comradery and support that made the difference.
"We texted each other several times a day and motivated each other in a very positive way," Lynn Simpkins adds. "It was a sisterhood!"
Amity echoes her sentiment, also sharing that the team communicated multiple times a day about their standing, anticipated step counts for the day and what they needed to do to jump ahead.
"It became a little obsessive in a fun way," she says.
In fact, Amity went so far as to jog in place before jumping into bed just to keep the team's numbers competitive.
"We are bonded for life and are now looking for another challenge," Amity adds.
Not only is National Nurses Month in May, but National Nurses Week is May 6 to May 12.
To all our nurses, we thank you for the excellent care you provide our patients every day! Read more of our nurses' stories to celebrate.
Also, if you're a nurse or a health care professional, we invite you to explore and pursue a career with us.