During the COVID-19 crisis, technology is helping loved ones stay connected – even from inside hospital walls.
Take Drew and Kara Gordon for example. Drew was recently admitted to St. Francis – Downtown after having a hemorrhagic stroke.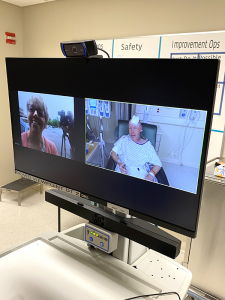 "It came out of the blue," recalls Kara, Drew's wife of 32 years. "We were having a nice day at home… He'd gone outside to work on a project with my dad, and then he came inside complaining of a terrible headache."
Drew told her he thought it might be because he was overheated, but Kara said her husband was cold to the touch. His pulse was also hard to find. When he began complaining of nausea, she insisted they go to the hospital.
"He doesn't like being fussed over, but when I said I wanted to take him in to get checked he agreed…," she says.
Upon arriving at the hospital, Kara had to stay outside while her husband was taken into the ER. After waiting for what seemed like an eternity, she finally learned more about her husband's condition. She also learned he wouldn't be coming home right away.
"They said he was being monitored and had been improving but he was on a ventilator," she recalls.
Kara couldn't be by his bedside due to the ongoing COVID-19 visitor restrictions at the hospital put in place for the health and safety of both patients and visitors. Rather than staying at home, a nearly 45-minute drive away, she chose to do something else. Every day, Kara set up shop in the hospital's parking lot to ensure she was never too far from her love.
"This is the closest I could get," she explains.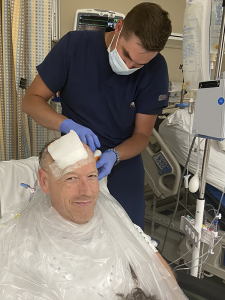 "I'm both touched and disturbed that she's camping out there," Drew chuckled upon finding out what his wife was doing. "I'm very touched that she's out there, thinking of me. She's a great wife. She looks after me. It warms my heart."
It took a few days for Drew to be able to communicate with his wife at all. In the beginning, he was on a ventilator. Then after his condition improved, Kara says the texts he sent her were jumbled and sometimes incoherent.
Eventually, they started talking on the phone. Then one night, the Bon Secours staff set up a video call so Kara could finally see how Drew was doing with her own eyes.
"I hate to tell you this but we've got a restraining order on you," Drew joked during the call.
"For stalking?" Kara asked, playing along. "And when they showed you the tapes, did you say 'I have no idea who that is'?"
The couple couldn't stop grinning and laughing throughout the 30-minute video visit. They both expressed how thankful they were for the staff that helped set up the virtual date. Bon Secours Nurse Zach Strickland even gave Drew a haircut to make sure he was looking his best for the special occasion.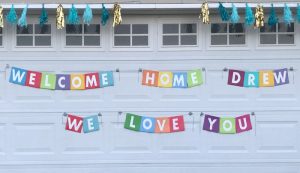 "They're taking good care of me," Drew reassured his wife just before ending the video chat.
After spending a few more days in the hospital, Drew was finally able to come home. In true Kara fashion, she surprised him with a sweet message on their garage door that Drew was able to see the moment they pulled up.
They are both doing great and settling back in to life at home.
Stay updated on what Bon Secours is doing related to COVID-19.