Over the past month, high school seniors completed their internships for Project SEARCH with Bon Secours in Richmond, VA.  As you can imagine, COVID-19 foiled our in-person graduation ceremony plans. However, it didn't stop us from having some socially distant celebrations to recognize these awesome individuals for their hard work!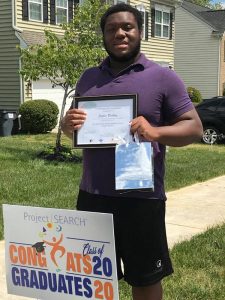 Project SEARCH is a national program that helps students with intellectual and/or developmental disabilities learn skills in a real-world work environment. During their nine-month internships, Project SEARCH interns are given hands-on opportunities to learn the behind the scenes of three different hospital departments. These tasks include filing or copying materials, creating paperwork packets, completing deliveries, cleaning equipment and organizing nursing unit supplies.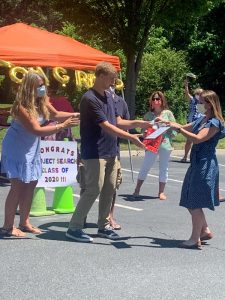 In our Richmond market, students from Chesterfield, Henrico and Hanover counties celebrated the completion of their internships and will now embark on their next adventures. The celebrations varied from hospital to hospital, but these seniors certainly felt the love from their Bon Secours teams.
Please join us in congratulating these seniors for their completion of Project SEARCH at Bon Secours: Joshua A., Joshua G., Joseph H., Jack M., Joseph S., Haley W. Ajani S., Peter F., Jaylen B., Madison B., Amanda B., Kalea B., Brandon C., Uchenna E., Lee P., Benjamin R. and William S.
We thank them for their hard work and wish them all the best of luck!
At Bon Secours, we strive to support the well-being and individuals in our communities. Learn more about our mission, vision and values.